Air Conditioning End user training and signage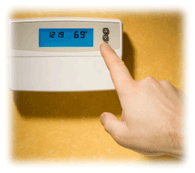 Albany Energy can provide in house or at a convenient location for you; training, education and where necessary appropriate signage and labelling for controls systems and their set points. All training is in view to promote building comfort and system efficiency.
We can arrange to present to you and your team/staff offering all the information you need to operate your air conditioning / building service systems for both comfort and efficiency. Informative laminated instructions and notices will be provided for your site which will be specific to you and can include asset information if this is required.
'Even small improvements to the energy performance and the way we

cool

and

heat

our buildings could have a significant effect on our fuel bills and carbon emissions'
This service can go hand in hand with the Air Conditioning Energy Inspection and is most valuable following an Energy Inspection. However we also offer this service as a standalone package if required.